If you're looking for a way to increase value to your home without breaking the bank, consider a bathroom remodel. Not only, does it make your home more desirable when you're putting it on the market, it's also a way to feel more comfortable while you're living in your home! When the bathtub is rusty, the sink ineffective, the shower head weak, or the floor is old, it can lead to stress, anxiety and in the long run cost you money in repairs and time as you try to figure out the problem. Instead of living with a headache, treat yourself to remodeling your bathroom! With our help, we transform your bathroom into one you've always dreamed of! Forget going to the hotel for a getaway, we'll bring it to you!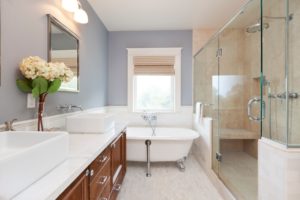 When you think of a remodel, it can feel a bit overwhelming at first. It can seem daunting and intimidating. But have no fear! We will make it as smooth and quick as possible, so there's little inconvenience to you. Here are a few things to keep in mind as you start planning!
First of all, it's good to do an assessment of your current bathroom. Is there anything you like about it? What do you absolutely want to change? Make a list of what you'd like to keep and what you'd like to be different. Be as specific as possible with colors, texture, fabrics, layouts, and other important qualities of your bathroom.
Next, do some research! Ask to see your friend's bathroom, ask to tour a room at a hotel, or simply look up inspiration online. Take pictures and screenshots of what you like about bathrooms you see, and keep notes with your specific thoughts on what you like about what you find. Is it the shape, feel, paint color, style, or something else? Be detailed, so when we meet to talk, we can really get a feel for what you're looking to do.
Once you know what you're looking for, t's important to look at your schedule and decide how much time you have to do this remodel. Do you have guests coming to town? A baby on the way? Grown up kids leaving home? It's important for us to know upfront how much time you have to do the remodel, and if you have a specific deadline. And remember, let us know sooner rather than later so we can start planning and get to work!
Now you know what you want, when you want, next is to see how much you have to spend on this project. Make a budget! Keep in mind that the more you want done to your bathroom, the more money it will probably cost. So be realistic with what you can afford and how much you can spend. Once we hear your budget and ideas for what you want done to your bathroom, we will do our best to maximize your budget and fulfill your goals!
Lastly, sit back and relax. When we get the project going, you can leave the heavy lifting to us! We will happily get the supplies, take out the old and install the new!
Here at Spencer Interiors Construction, service is our business, and quality our guarantee! We look forward to working with you!
Add your site to cotid.org the coolest of website directory for free! This site is listed under Contractors and Builders Directory